Thoughts on Broken Harbor by Tana French
Title: Broken Harbor
Author: Tana French
Pages: 464
Genre: Fiction, mystery, literary
Date Published: July 24, 2012
I have been stalking Tana French ever since I finished The Likeness in October 2008. When you find an author that you love (and I mean love in the she's-in-my-top-three-favorite-authors-of-all-time way), waiting for their next book is kind of like trying to entertain a toddler. It's excruciating. (Or maybe it's just me that finds trying to entertain something with the attention span of, oh, around 6 minutes to be painful.)
So to say that I've been waiting for Broken Harbor with every inch of my being is totally true, though also a bit 15-year-old-melodramatic.
But still.
True.
As I cracked open Broken Harbor, it was with a bit of trepidation. Could Tana French even come close to my expectations?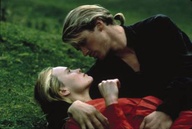 "I will never doubt again."
I was thrilled when Broken Harbor book was picked for my book club (a new release! hardcover!). When we got together to discuss the book, the premise of society making my generation feel like we have to have it all — a spouse, 1.8 kids, a house, two cars, etc, made for fascinating discussion. We ended up talking politics, taxes, income, and who is considered to be middle class. The discussion was quite natural and flowed straight from the book. Fortunately, we all still liked each other when the meeting ended.
Here's the synopsis of Broken Harbor from Good Reads:
In Broken Harbour, a ghost estate outside Dublin – half-built, half-inhabited, half-abandoned – two children and their father are dead. The mother is on her way to intensive care. Scorcher Kennedy is given the case because he is the Murder Squad's star detective. At first he and his rookie partner, Richie, think this is a simple one: Pat Spain was a casualty of the recession, so he killed his children, tried to kill his wife Jenny, and finished off with himself. But there are too many inexplicable details and the evidence is pointing in two directions at once.

Scorcher's personal life is tugging for his attention. Seeing the case on the news has sent his sister Dina off the rails again, and she's resurrecting something that Scorcher thought he had tightly under control: what happened to their family, one summer at Broken Harbour, back when they were children. The neat compartments of his life are breaking down, and the sudden tangle of work and family is putting both at risk . . .
One of French's strong suits is her ability to write dialogue. Obviously crappy dialogue is easy to spot, and probably most dialogue goes unnoticed. But I've found that I love to come upon French's dialogue because it's so interesting. I realize as I type this I risk coming across as daft, but trust me on this. The Irish dialect comes alive and while I wouldn't call the dialogue snappy, her characters have spunk, making their conversations more than just a way to move a story forward.
I have to warn you that I ended up being consumed by this book while I was reading it. Mostly I started looking at new housing developments as if they were the ghost estate in Broken Harbor. I don't know how French can not only transport me to another world while reading her book, but can also make it so that I'm sort of still in that world even when I'm not reading the book.
The story itself is heartbreaking, and I was surprised that the story became even more so as I got further into it. Where is the line between sanity and madness? Will we know when we've crossed it? Will our family or our friends? These questions come up both in the main story and in Scorcher's personal story, which was melancholy as well.
What do you do when friends start doing things that you don't agree with? I don't mean illegal things, but things that you think will make them unhappy?
The questions this book broaches are numerous, so there are many directions a book club could take it.
If you like your endings wrapped up in a nice tidy bow, Tana French is not your author. I have friends who are still mad that they read In the Woods because they never found out what happened *In the Woods*! I happen to like the fact that the reader is left to imagine how things might/should/could/would end, especially in Broken Harbor. Even more than that, I like that there's no one person to blame in this story. It's like all relationships — things are always much more 50/50 than they may seem and when you look at the picture as a whole, it's hard to pin everything on one person and say, This is the reason everything happened the way it did.
Anyway, all that to say that I loved this book. If I had to rank it against her others, I'd say it ties with Faithful Place, which I thought was only slightly less great than The Likeness (which is in my top 5 favorite books of all time).